Train travel (tourism tourist train tram Guidance)
Guidance sightseeing train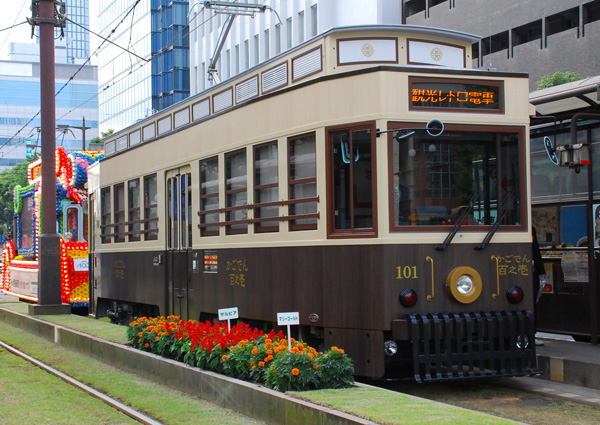 To commemorate 100 years of tram service in Kagoshima City, the retro sightseeing tram Kagoden was created in homage to wooden trams that ran from the Taisho Era (1912 – 1926) through Showa Era Year 30 (or 1955). The accompanying tour guides are all local volunteers.
Routes
Routes

Route

Depart 1.Kagoshima Chuo Station – 2.Tenmonkan-dori (ascending) – 3.Izuro-dori – 4.Kagoshima Station – (10 minute break) – 5.Suizokukan-guchi (Kagoshima Aquarium) – 2.Tenmonkan-dori – Takamibaba – 6.Takenohashi – Kishaba – Kōrimoto – 7.Junshingakuen-mae – 8.Shinden (Kotsukyoku-mae) – 9.Shiritsubyoin-mae – Arrive at 1.Kagoshima Chuo Station

Highlights

1. Starting point for the Shinkansen trains, which run up to Hakodate, Hokkaido; statue of the Satsuma Students

2. A former astronomical observatory, it is now the largest shopping arcade in Southern Kyushu

3. Izuro stone lantern, Statue of Ryoma and O-ryu

4. First station on the Kagoshima Main and Nippo Main Lines

5. Sakurajima Ferry Terminal, and Kagoshima Aquarium Io World

6. Mouth of the Kotsuki River, Kinko Bay, and the best view of Sakurajima

7. Statue of the Virgin Mary

8~9 Transportation Bureau facilities, Uearata-cho Mori Park, Kagoshima City Hospital
Trip Length
Approximately 75 minutes
Trip Times and Dates

Saturday, Sunday, and Holidays at 10:00 AM (1 trips a day)

※Boarding passes will be handed out 15 minutes prior to departure at Kagoshima Chuo

Fare

Adult \340 Child \160 (This is the roundtrip cost)

(※Customers boarding at Kagoshima Station will pay; Adult \170, Children \80. Please pay when boarding.)

Cash, IC Card Rapica, City Tram and Bus"One-day Pass" and Welcome "CUTE"re all acceptable forms of payment. (Regular commuter tickets may not be used to board)

Capacity

30 people in order of arrival (trams equipped with 23 seats)

※When boarding at Tenmonkan (ascending) and Kagoshima Station, there is a chance that the tram will be full, or have already reached capacity.
Getting on/off

Customers may board at Kagoshima Chuo Station, Tenmonkan-dori (ascending), and Kagoshima Station only.

After departing Kagoshima Station, customers may get off at any stop between Sakurajima-sanbashi-dori and Kagoshima Chuo Station. If you wish to get off at any of these stops, please let the volunteer guide know before departing Kagoshima Station.
Wheelchair Accessibility
The trains are equipped with slopes for wheelchair accessibility. Before boarding, please contact the Train Division (099-257-2116) if you will require assistance.
Other Notes

Service may be suspended in the case that service days overlap with events such as the Ohara Festival, or that there is a train inspection.

Please contact the Kagoshima City Transportation Bureau Train Division with any questions or concerns.
Sightseeing around Kagoshima City on city trams
Tram stops between Kagoshima Chuo Station and Kagoshima Station and surrounding facilities.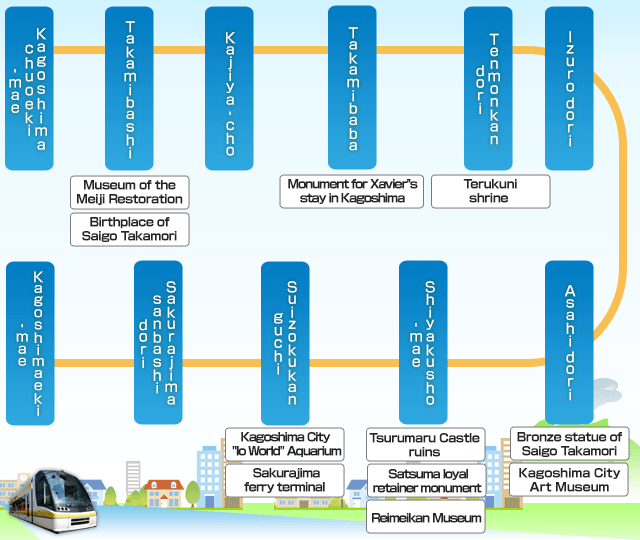 Contact Us
Division, train
〒890-0055 Kagoshima City, Ue-arata-cho37-20,
TEL 099-257-2116
FAX 099-257-2119